Which Properties are the ones that make the most money
Which Properties to Avoid
How and Where to Find Motivated Sellers
What to say to Sellers and What to Ask
How to Attract Loads of Qualified Buyers Automatically
How to Screen Buyers So You Only Deal with the Best
How to Show your Properties Without You Needing to Be There
Where to Place Your Ads and Exact Ad Copy To Use

Exactly How to Structure Your Deals for Profit
The Exact Dollar Amounts to Use for Terms Depending on the Situation
The Legal Paperwork You'll Need (We provide most of it for you).
How to Guarantee Your Property Will Sell Quickly Before You Buy
How to Virtually Eliminate Risk of Non-Payment from Your Buyers
An Exact Plan for Making $100k Your First Year
And much more . . .
The Gold Package covers everything you need to buy and sell homes inside community mobile home parks.
Total price for Gold Package is a one-time $297.
The Platinum Package includes the Gold PLUS everything you need to buy and sell manufactured homes on private land – so that you will be able to deal with 100% of the mobile home market in your area.
The Additional Profit Potential of the Platinum Package
While you can do VERY well for yourself by only focusing on mobile homes in parks, you're leaving A LOT of money on the table if you're not prepared to take advantage of the even more lucrative mobile homes on LAND.
Here are some important facts to consider:
75% of mobile homes are attached to private land the owners own. That may surprise you as most people only notice mobile homes in parks.
Mobile homes on private land are just as undervalued by other investors as homes in parks.
Payment terms are as long as 30 years! 15-30 year payments are typical for mobile homes on land, meaning you will be recieving cashflow for the next 15-30 yrs on these deals!
Many mobile homes on land have no mortgage.
Same benefits as homes in parks, such as: ability get in the door with little to no money, no credit, little time, minimal management, etc.
You will find MANY MORE BUYERS for homes on land than in parks.
Buyers looking for homes w/ land will pay you higher Move-In fees.
Compared to homes in parks – homes on private land are completely different animals. The Platinum membership provides all the information, methods and resources you need to immediately capitalize on these amazing opportunities.
Your first deal on land will pay for this investment many, many times over.
Price for Platinum Package is two monthly payments of $297 (one payment of $297 now and another payment of $297 thirty days from now).
30 Day Money-Back Guarantee
Go through the training and do the assignments. If you aren't pleased with the results, shoot me an email within 30 days of purchase showing me you did your assignments in each module and I'll issue you a full refund.
Click below for Gold Package
One-time $297
Click below for Platinum Package
2 Monthly Payments of $297
Immediately after purchase, you'll have access to the members' area.
Investors Review John Fedro and the Mobile Home Formula
.
PLEASE READ BEFORE LOOKING BELOW: Below are true life rave reviews from newly active mobile home investors coached and educated by John Fedro and the Mobile Home Formula. These candid testimonials and comments below have been taken from a mix of Facebook, Online surveys, Blog Comments, Youtube, Skype chats, and private emails. You will notice the below reviews range from the mild to the wild.
Enjoy!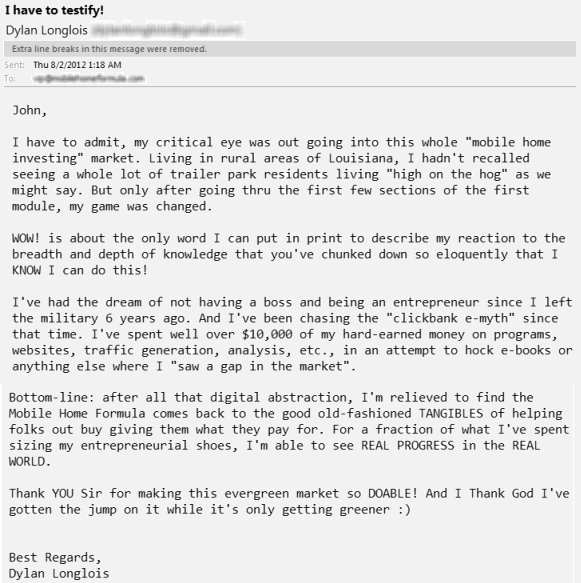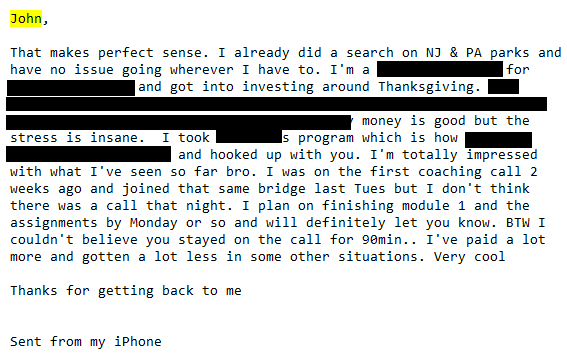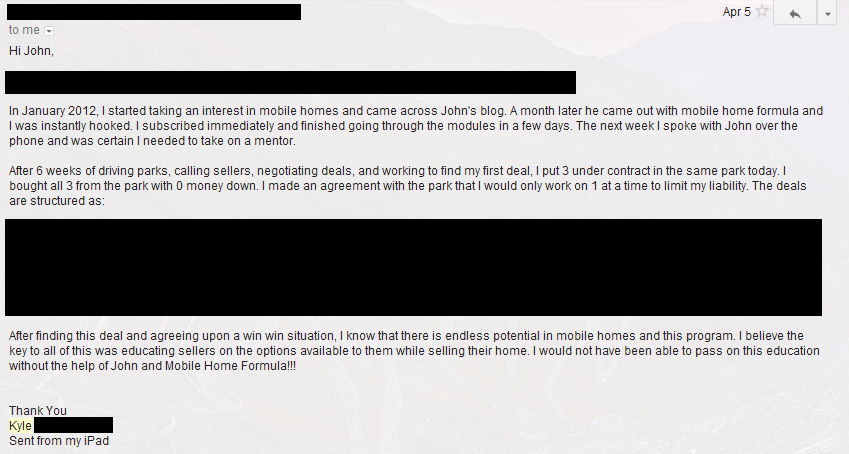 .
.
Contact Us
support@mobilehomeformula.com
Real Wealth Systems, LLC.
Earnings Disclaimer
Every effort has been made to accurately represent our product and it's potential. Any income statements and examples on this website are not to be interpreted as a promise or guarantee of earnings. Earning potential is entirely dependent on the person using our product and does not represent or guarantee that anyone will achieve the same or similar results.